Over at Denise's
Laughing with Spoons
, it's Thankful Tuesday and our topic this week is our child(ren). In my case, it's child. What a wonderful topic!! I love nothing more than to talk about my little noodle! :o) In this case, I will tell you all the things I am thankful for her. As always, in no particular order.

1. I am thankful that she is MY baby girl!! I couldn't have asked for a better daughter. I was so worried that I wasn't going to be able to do my job as a mom and teach her all the things that are important but as she has gotten older, I feel she is such a well mannered, polite little girl and I couldn't be any more proud of her!

2. I am thankful for all the times she has made me laugh. That is quite often too! She is such a ding dong and loves to be silly and I love that about her (she takes after me..lol). She is such a happy little girl who loves to laugh and smile. That alone makes me happy for her! I just couldn't resist but to share this photo of her silliness!! lol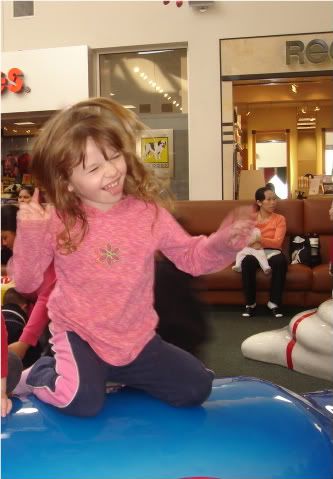 3. I am thankful that she is in my life. I couldn't imagine life without her now. She brings so much joy into my life and I feel so blessed!! I see so many parents going out weekly having a babysitter take care of the kids but I personally LOVE to take my daughter where ever it is I go. I enjoy her company. I am sad when she isn't with me. I know I need this time alone with my hubby but I just enjoy her presence!
4. I am thankful that my daughter is healthy. There are so many parents that have the constant worry of their child's health and I am fortunate I do not.
5. I am thankful she is a Momma's girl..lol! Yes, I am! She is also a Daddy's girl but more so a Momma's girl. Anytime we have to take two cars somewhere, or if we are in a store and need to go in two different directions, she always comes with me. When we sit on the couch, she sits by me and plays with my hair to help her relax.
6. I am thankful for all her hugs and kisses!! Even though at night when I tuck her in bed and she has to hug me constantly. When I say constantly, I mean that I will be walking out her room and she'll want another hug and kiss. I sometimes get frustrated cause she needs to get to bed but as I think also, I'm just thankful that she's there, with me, safe and sound. I shouldn't complain! So, I am VERY thankful for ALL her hugs and kisses!!
7. I am thankful for my baby girl that she already has goals in life for when she grows up. She wants to be a Fashion Designer. My hubby and I totally support her and let her know she can do it. I look forward to many years of seeing all her goals in action! She is so smart and I'm so happy she has my hubby's math smarts :o)
8. I am thankful for her helping me to look at life in a different way. I feel I've always been a caring person but I feel more so now. In a parents perspective! It's simply amazing!
9. I am so very thankful for all the Love! The love from a child is no other love I have ever felt. It's so unconditional! I myself never thought I could love someone this way! I look at her and my heart just melts! No one can understand this love until they become a parent! I feel so lucky and blessed to been able to have this opportunity!!
10. I am thankful for all the moments that I am hurt, down or sad, she will come to me and try and make me feel better. Either with a smile, hug, being silly or with a bandaid. She's always there for me.
11. I am thankful that she makes taking pictures easy for me!! LOL She is so photogenic and it's so fun to get the camera out with her as the subject! I just had to add that one.
12. I am thankful for having an AMAZING daughter!! Everything about her.......I wouldn't change!!!!
13. I am thankful for my daughter as she is my reason for being here. I know we all have a purpose and I feel she is mine! She is my everything!!
It's your turn now! What are you thankful for in your child(ren)?