I just love
Mama Kat's
weekly assignments! This week are 4 fun ones and I may just have to do all 4 of them. So, here are the prompts:
1.) Describe your latest obsession.
2.) Ask a loved one to use 6 descriptive words to describe you and report your findings. How well do they know you?
3.) Who was your first bloggy friend? How did you find each other? Do you still correspond?
4.) Tell us about your pet! If you have a weird infatuation with your dog or cat we want to hear about it (or if they just plain drive you crazy)...but please don't compare them to children. It's just not the same.
~~~
Prompt #1
What is my latest obsession? Need you reeeally ask this? Hello??!! Blogging, but what else?! This blogging thing has more or less taken over my life. That's right! I'm at work....blogging. At home.....blogging. I leave the house and as soon as I come home.....blogging. It's pathetic!!! I need to go rent some movies to get my mind off of this blogging thing. LOL! But hey, I've made some friends which is Awesome! So, I guess it's not so bad, right?! My husband is getting annoyed though with it...hee hee! Whatever. He's watching the Sharks so that's his "blog" and this is mine!
Prompt #2
Hang on now. I'm gonna go ask my hubby for the 6 descriptive words to describe me. Let's see what he can come up with seeings he is watching sports. Wish me luck!!............elevator music.......I'm back!
Here's what he gave me. Mind you he started out by saying sexy and horny (whatever, he likes to screw around a lot...lol) but then I told him what this was for so he said "don't put that"...lol!
So this is what he gave me:
1. Bubbly
2. Angry (which he added "like major road rage"...lol)
3. Goofball
4. Uptight
5. Pretty
6. Loving
OK, I love my hubby! Sure he said angry and uptight and I'm not going to argue with him. It's true. This is only when stupid people cross my path! Hey, if these stupid people didn't cross my path, all would be good!!!!
Prompt #3
Who was my first bloggy friend?
That's easy! That would be my friend, Denise at
Laughing with Spoons
. We went to school together (
like ages ago
) and she found me on another website that we also correspond together on still.
Prompt #4
Tell you about my pet!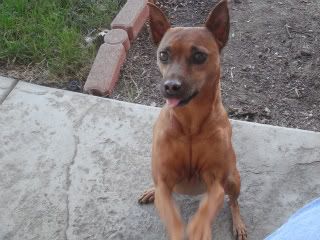 My dog, Ozzy is a cool dog!! I know I've said that many times before but he is! Look at him! He's so cute and look.....he even has his little tongue sticking out....lol!!!!
(And no, he doesn't look like a rat either!!!!! )
He's a Miniature Pinscher and he jumps around like a deer when he is excited. You see, I used to have a Chihuahua whom I had since I was a teenager but she died a little over a year after I had my daughter. A year and a half went by I wanted to get another dog and so I was searching the Petfinder.com website. I knew I wanted a Miniature Pinscher cause they are good with kids, I wanted to make sure the dog was potty trained and was a GIRL. Then I found this awesome dog. Everything was perfect except one thing.......it was a boy. But come on, his name was Ozzy! We totally love Ozzy Osbourne in this family so it was a sure fit! So my BFF and I along with the kids took a drove down to the Lemoore Airforce Base near Fresno to go pick my Ozzy-boy up! He was only $50 and he came with the works! He was potty trained. He's a pure breed with papers and his real name happens to be King Cowboy Ozzmosis (huh??? whatever....He's Ozzy!) He has a chip, kennel and toys! What a bargain, huh?! He took to me real good too! He just knew I was an animal lover ;O)
Anyways....he does drive me crazy though! Lately anyway. I'll be sleeping and he has to sleep under the covers right in my leg area. Dude, get out of my way! Or lately at night he has to do a potty call. Either my husband ignores Ozzy's yelping to get our attention or he is in a deep sleep every night when Ozzy does this so that I have to drag my butt out of bed to let him out. Grrr!
~~~
Alrighty! Now head on over to
Mama Kat's
and check out the others and don't forget to give some comment love! We all love comments!