When I saw this weeks prompts from
Mama Kat
, I knew this was the one I wanted to do.
2.) Write a poem about a picture.

Hey Lover
Hey Lover
It's just you and me
Together alone
The way it used to be.
Hey Lover
You make me smile
The things you say
Are so worthwhile.
Hey Lover
These moments we share
Each and every day
This great love affair.
Hey Lover
The love I have for you
After all these years
If only you knew.
Hey Lover
My partner, my husband, my life
I couldn't be any happier
Being your wife!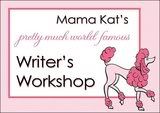 Now head on over to Mama Kat's and join in. It's fun!