Good morning all my bloggy friends in Blog-land!! It's Monday morning and although I'm not happy to be here at work (cause I would rather be snuggly warm in my bed) I did wake up to an award that put a smile on my face! I want to give a great BIG thank you to
Kristen
who gave me this Lemonade award!!!
The purpose of this award is to give it to someone who is showing gratitude or a good attitude ("if life hands you lemons, make lemonade") within their life or blog.

The rules: put the logo on your blog, nominate at least 10 blogs that show great attitude and/or gratitude.

Honestly, I don't know if I can list 10 but I will sure try. Here are my fellow bloggy friends I would love to nominate this award to:
Also, during this weekend I also received this lovely award! Isn't it pretty?! I would like to give a great BIG thank you to
Perfect Pen
who gave me this award!!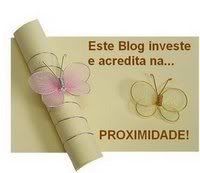 The award states "This blog invests and believes the PROXIMITY - nearness in space, time and relationships!These blogs are exceedingly charming. These kind bloggers aim to find and be friends. They are not interested in prizes or self-aggrandizement. Our hope is that when the ribbons of these prizes are cut, even more friendships are propagated. Please give more attention to these writers! Deliver this award to eight bloggers who must choose eight more and include this cleverly-written text into the body of their award."
I've already given this award out before so I may not be able to give eight without duplicating so I will do my best!
Alrighty, after much looking over, it looks like I'm going to be duplicating some of my previous nominations. Hey, it's a season of giving, right?! ;o) So, without further adu, here are my nominations:

I also wanted to give everyone a heads-up and let you know Fabulous Foto Friday will be on hiatus this week and next week due to the holidays. I didn't have a very good turnout this past Friday as I know everyone is really busy. Just be ready with all your Fabulous pics to join in the fun on January 9th!
Hope everyone has a wonderful and safe week!! Big HUGS to all my bloggy friends!!