Here it is, 12 days before Christmas and I have YET to get my Christmas cards out. I'm usually always running late on them anyways but this year, I just don't know what has come over me. Usually I use a photo of Sabrina and Ozzy (the dog) or whatever cool photo I may have in my gallery of pics and then go to Costco to have those photo cards done. This year? NOTHING! I have opted to just go to Rite-Aid and get regular ones cause when do I have the time to run to Costco. Oh, and for the fact that our membership there has expired anyways. I'm not spending $50 just to spend and additional whatever just to get my Christmas cards done.
~~~
Last night after work, my hubby and I were able to drop the cutie pie off at the Grandparent's house so that we could get some much needed Christmas shopping done. We left the stores with a feeling of accomplishment!

You see though, when I shop for Sabrina, I just get lost in all the toys and clothes and all the cute stuff that I tend to forget the cost of things and just start to add things to the cart. I'm a woman, I love to shop! Although, when we were still in the store getting ready to head to the checkout, I told my husband "OK, I just want to get her one more thing and that's it. (This something is a half hour away from where we live so there will be a few days before I can get it). We won't have to spend anymore after that". But my husband said "Yeah, until we think of something else to buy." I was so sure that purchasing that one thing would be enough and satisfy ME and I wouldn't think of anything else from now until Christmas. Have I forgotten who and what I am??? By the time we left the store, picked up my daughter and got home I had already thought of something else to get her. Darn it, my husband was right (head nod). Well, at least I'm happy to say we just need to get a couple things for her and we'll be done with her! :o)
~~~
It's that time of year and I love to watch Christmas cartoon and movies! A week ago I went through the search on the TV for anything Christmasy. I clicked to record it if I thought it was worthy enough. However, we have a tradition in this family. One my husband can care less about watching over and over and over. I watched it when I was a kid and now I watch it with my daughter and her and I just love this movie!!! If you haven't already figured it out, it's none other than..................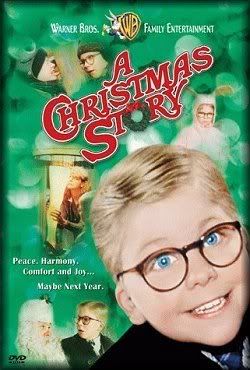 The countdown has officially begun! 11 more days until I get to indulge in 24 hour Christmasy bliss. OK, so maybe I don't watch it a full 24 hours straight but I sure do try and make sure it is on the TV for that 24 hours. I do have to fight (not literally) with DH from keeping him from changing the channel. It sure is fun though!! :o) But when we make our way to my parent's house for Christmas, it IS on their TV also!! HAHA! I guess in the end, I win! ;o)
A couple other Christmas favorites are Charlie Brown's Christmas, Rudolph the red-nosed reindeer, Frosty the Snowman, A Miracle on 34th Street and National Lampoons Christmas Vacation. So, what Christmas cartoons and movies do you like to watch?
~~~
Tonight is the Sharks game so we'll be making our way out to San Jose this afternoon. We're gonna head to San Jose's annual Christmas in the Park. We went to this last year and my daughter had so much fun. There are some workshops and decorated trees and carnival rides. So you now I'll be taking pictures!! Then we'll be heading to dinner just before the game. I hope everyone has a great weekend. Don't forget to take pictures and create those memories!!!!